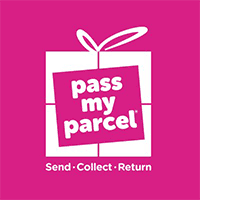 Carrier Overview:
Pass My Parcel offers a simple and convenient way to Send, Collect and Return your parcels at a local shop near you. Whether you want to collect your online order, return a parcel or send your own parcel, we've made it all really easy…
Carrier Description:
Pass My Parcel is the modern click-and-collect parcel service in your neighbourhood.
We partner with over 3,500 trusted local parcel shops to bring you a service with the speed, flexibility, convenience and peace-of-mind you deserve.
We've been delivering the nation's newspapers for many decades. And it's thanks to this long-standing relationship with your local shops and our commitment to twice-daily deliveries that we now offer a parcel service nobody else can.
Click & Collect and Returns Service:
Simply order from major online retailers and collect your parcel from your local shop the very same day. If later in the week is more convenient, your friendly shopkeeper will look after your parcel until you're ready to collect. Not happy with your order? Simply follow our 1-2-3 label-less returns process and drop off at a time convenient for you.
Send Service:
We have also made it convenient and easy for you to send a parcel to your family and friends throughout the UK or worldwide, what's more our network of stores and expertise means we can deliver this to you at a great price.
Certified Services:
Next Day
Next Morning
Same Afternoon
Return
Carrier Contact Information:
www.passmyparcel.com
PassMyParcel – Business.Development@smithsnews.co.uk
+44 (0) 8001 382 391
Make Delivery Your Competitive Advantage
Easily expand to international markets with the world's largest label library
Increase conversion and reduce cart abandonment with dynamic delivery options
Use your stores to deliver and return your products